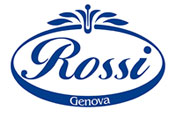 Thefirst "Rossi" shop was born in Genoa, in Via Assarottiin 1947thanks to an intuition of Silvio Rossi and within a few years the family members also took part in the company until, in the sixties, the shops became five. Five Genoese confectioneries, specialized in both the sale of classic favors with sugared almonds and sweets in general.

Things change and in the seventies the shops remain two, one with Silvio at the helm and the second bought by our family, who relaunches the shop in Via Galata. To date, our structure is again articulated on 5 traditional shops distributed in the center of Genoa.

There are twoconfectioneries, one is the history of via Galataand the other is a grocery store that over the years has become an "emporium of excellence" in viin Caesarea. Also in via Galata there is the Il Genovese restaurantwhere we offer traditional dishes and the latest arrival is the Frutteria Galata ice cream parlor, in via Galata in front of the restaurant.

They are all small traditional shops, measuring 22 square meters. to the largest of 40. For over 15 years we have added our Pal e-commerce portalatifiniwith the selection of all our constantly updated products, the result of the work of three generations.
Today we are able to range from Caviar to Chocolate, from stone ground flour to the most exclusive Champagne. All in search of the best quality / price ratio.
<!-- ->

Rossi confectionery 1947
Via Galata 30 red,
16121 Genoa
Tel. 010 564332
Timetables:
From Monday to Saturday
from 8.30 to 13.00
from 15.30 to 19.30
Closing day: Sunday
(During the holiday period, the opening hours will be continued. For confirmation, contact the shop directly).

Rossi confectionery
Via Cesarea 21 red, 16121 Genoa
Tel. 010 564955
Timetables:
From Monday to Saturday
from 8.30 to 13.00
from 15.00 to 19.30
Closing day: Sunday
(During the holiday period the open hours will be continued. For confirmation, contact the shop directly)

Frutteria Galata ice cream parlor
Via Galata 32 red, 16121 Genoa
Timetables:
From Monday to Saturday
from 10.30 to 20.00
(Timetable in effect from 1 October to 30 May)
Closing day: Sunday
Il Genovese Restaurant
Via Galata 35 red, 16121 Genoa
Tel. 010 8692937
Timetables:
From Monday to Saturday
from 12.00 to 14.30
and from 19.00 to 22.30
Closing day: Sundayica
The Genoese at the market
c / o MOG Genova
C4 - Via XX Settembre 75 r
16121 Genoa
Closing day: Sunday
Il Genovese in Boccadasse
Neptune Square 1
16146 Genoa
Closing day: Always open